Nuorten Kotkien aktiivi Jassu on vapaaehtoisvaihdossa Brysselissä kansainvälisen kotkaliikkeen IFM-SEI:n toimistolla. Jassu kertoo vapaaehtoisvuodestaan noin kerran kuussa ilmestyvissä blogiteksteissään Nuorten Kotkien sivuilla.
My name is Jasmin but I'm better known as Jassu. This is a blog about my EVS (European Voluntary Service) year in IFM-SEI (International Falcon Movement – Socialist Educational International ) secretariat. I will be writing here approximately once a month and tell you all the things about my year here. Hopefully this can be inspiration to someone.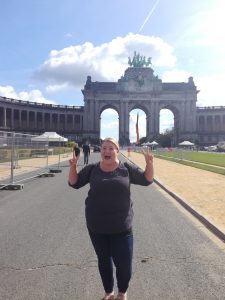 I'm 29 years old Nuoret Kotkat (NKK) volunteer from Järvenpää. I have been volunteer in NKK  for nine years. I started as a leader in camps and ended up being the chairman of my district for three years. So many things and mandates fit in those years, I'm not gonna tell you all but I can tell you it has been interesting.
My first international activity was Co-Camp in 2011. I went there with one really experienced leader and group of 20 youngsters. I really didn't have idea how to be a leader in this situation but luckily my leader partner knew everything and guided me through the camp. From that experience I got hooked up and built my own way of dealing with international work.
First time I heard about EVS was from Pekka (one of my friends in NKK) who spend a year in Catalonia as an EVS. I started thinking maybe one day I could do something like that. That idea was buried under all the other things I was doing at the time but kept popping up from time to time. Then in 2015 Nuoret Kotkat had an EVS volunteer, Jess from Catalonia and I got the honor to be her mentor for the year. Spark of the idea to go abroad was lit again.
In December 2016  I saw an open call for EVS in IFM-SEI secretariat and applied, but wasn't accepted. In December 2017 I saw that open call again and started thinking should I apply.  After hard consideration I knew it would be now or never (because you can't be over 30 years old). I applied and got accepted!
It took me seven years to build my knowledge working in an international organisation to get to the point where I'm now. (I'm that kind of person who takes time to do decisions and built knowledge. Believe me you can do it faster if you want, seven years is a long time.)
A week ago I started my EVS year in IFM-SEI secretariat in Brussels, Belgium.  About that I will tell you later.
More info about EVS here https://europa.eu/youth/volunteering_en
Jaa sosiaalisessa mediassa: